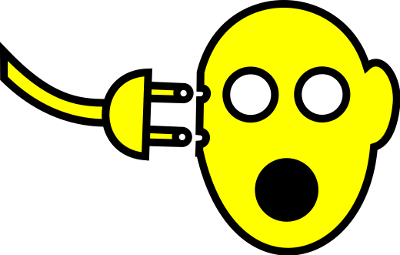 Digital Detox: Take over your headspace
Digital Detox is a free application for Android smartphones inspired by Adbuster's Digital Detox Week. The application irrevocably* disables your Android phone for a period of time you specify.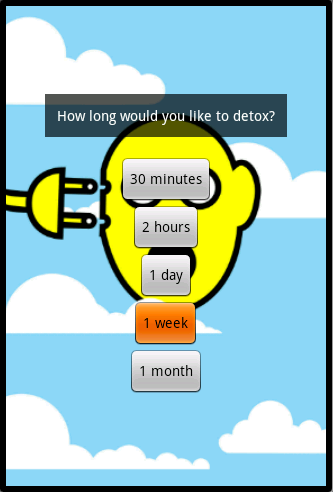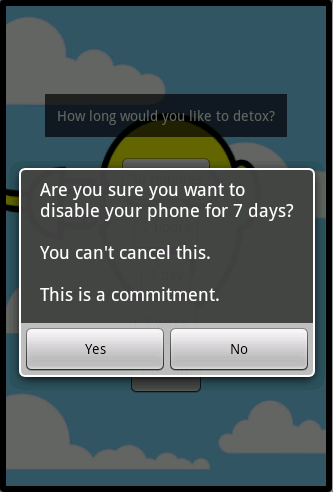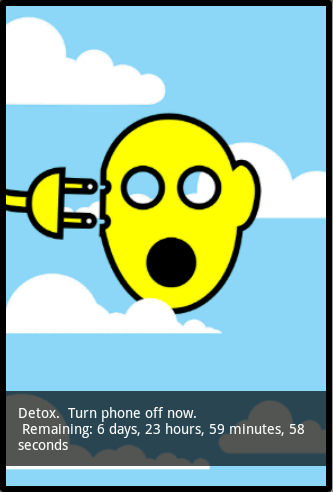 Why?
Because sometimes we need a moment to breathe between tweets, emails, SMSs, IMs, phone calls, RSS updates, GPS tracks, photos, and the rest of our digitally mediated existence. Sometimes we need to take a moment to engage with the world around us. Our phones can be addictive brain-sinks that sap our life energy for frenetic distractions.
How do I use it?
Install the Digital Detox application by searching for "Digital Detox" in the Android market (it's free). Start the app (don't worry, it won't lock anything down until you tell it to), and choose the length of your detox. Once you start the detox, your phone will be locked down until the time is up.
During a detox, the emergency dialer can still be used by pressing the call button; all other functionality is locked out.
Is this a joke?
No. Starting a Digital Detox session is a commitment. Once you start, it can't be cancelled – your phone will be unusable except for the emergency dialer (which only allows emergency calls) until the session is complete.
*HELP! I started a detox, but I NEEDS MY PHONEZ!!
I'm sorry to hear that. The following is a complete list of the known ways you can address this:
Wait: your phone will return to normal when the detox period has finished. Patience, young padawan. Enjoy the world outside.

Factory reset: You can wipe all user data and settings, which will remove the Digital Detox application. Consult your phone manufacturer's instructions for resetting factory data. Instructions for the G1, droid, nexus one. WARNING: This will delete all your apps, all your contacts, all your settings, everything.

Android debugger: If you enabled USB debugging prior to starting Digital Detox, you can use the Android debugger, adb, to uninstall the application. First, install the Android SDK. Once it is installed and set up, the following command will uninstall Digital Detox:

    adb uninstall org.tirl.digitaldetox

Please note that once you have started a detox session, there's no way to enable USB debugging until the session is over.

Root your phone, removal from shell: This does not require you to wipe user data or have USB debugging enabled, but it is also not for the faint of heart. Root your phone, and install a modified recovery image such as cyanogenmod's which allows you to boot to a shell. Boot your phone into a shell, then issue the following commands:

    su
    mount /dev/block/mtdblock5 /system
    rm /system/app/org.tirl.digitaldetox.apk


After all of this, the application will be removed, but user data (including the status of the detox session you started) are still there. If you reinstall Digital Detox, the phone will again be locked down without asking you until the time is up.
I have all this free time now that I'm not constantly checking my twitspace. What should I do with myself?
Congratulations! You're prime to escape from one of the more bizarre and troubling of western cultural institutions – boredom – and the slew of manufactured distractions that perpetuate its existence. A few suggestions:
Hang out with your friends, in person.
Practice a musical instrument or a foreign language.
Read a book.
Go for a hike, explore a local park.
Start a revolution.
Yellow plug head on blue sky image credit: http://adbusters.org